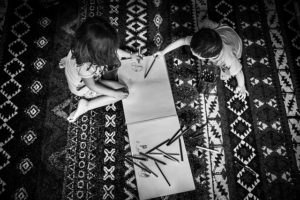 With a new building, we are able to offer more programs for the community including children's programs. Starting late February, we will offer care for infants, toddlers and young children while parents are sitting in meditation. To do so, we are in need of supplies and donations.
Since this is a new children's space at the Zen Center, we have an opportunity to shape a quiet, expansive and nurturing experience for the children just as their parents are experiencing upstairs on their cushions. We ask that donations reflect the values of the Zen community.
If you have items to donate, please contact Teva at [email protected]. We will also take monetary donations to purchase items not donated and those donation arrangements can be made through our treasurer at [email protected].
Donations needed: 
Nursery (infants)
Rocking/glider chair
Baby rocker/swing
Diaper changing station
Small trash can, good for dirty diapers
Toys made from natural materials
High chair for dining area
Burp clothes
Receiving blankets
Playmat
Baskets for supplies and toys
Healthy, organic snacks for 12 months+
2-4 years old
Books reflecting Buddhist teachings
Toys made of natural materials that don't require batteries
Crafts with natural materials that encourage sensory play
Short, children's bookshelf
Baskets for storing supplies and toys, large and small
Healthy, organic snacks
Children's broom
Appropriately sized cups and plates and silverware
Zen bells for ringing
Booster chairs
4 years and older
Toys made of natural materials that don't require batteries
Books reflecting Buddhist teachings
Crafts with natural materials that encourage sensory play
Push sweeper (non-electric vacuum)
Healthy, organic snacks
Kids size black zafu and zabutons