See our virtual practice schedule for meeting times.
January 2021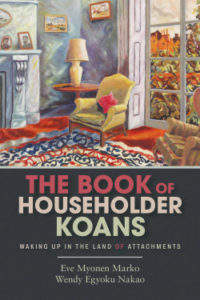 This month's Zen Study Group will be led by Tina Yudo Thornberry. She will draw on selected readings from The Book of Householder Koans, Waking up in the Land of Attachments, by Eve Myonen Marko and Wendy Egyoku Nakao, Monkfish Publishing Company (2020).
Zen koans are stories or questions presenting encounters between monks and old Chinese and Japanese masters. They also feature commentaries designed to help practitioners of Zen awaken to the true nature of reality. Thousands of classic koans emerged from the lives of monks living inside a Chinese or Japanese culture. As a result, these stories and commentaries frequently contain unfamiliar metaphors and references that have proved challenging for many Westerners. As a result, many of us avoid practicing with koans.
During the month of January, the Zen Study Group will read selections from The Book of Householder Koans. This book is a collection of koans created by 21st century Zen practitioners living a lay life in the West. The koans deal with the challenges of relationships, raising children, work, money, love, loss, old age, and death, and come from practitioners across three continents. Each selection is accompanied by a commentary from one of two Western Zen teachers.
The collection is based on the premise that our lives as householders contain situations rich with challenge and grit, the equivalents of old Zen masters' shouts or blows meant to sweep the ground right from under their students. They become koans, or koan practice, when they jolt us out of our usual way of thinking, when we're no longer observers of our lives but plunge in, closing the gap between ourselves and the situations we face.
February 2021
Coming Soon …