Welcome to the Des Moines Zen Center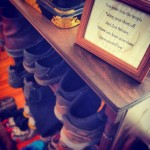 Following the Soto Zen Buddhist principles, the center offers a quiet place to sit in the company of a growing and supportive Buddhist community. All are welcome. We have weekly meditation times, dharma talks, discussion groups, potlucks and retreats. All are welcome and invited to attend.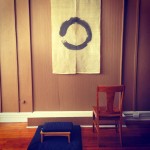 If you have never practiced Zen, take our introduction class. We will instruct you on the fundamentals of meditation and Zen practice on the third Tuesday of each month from 7:00 to 9:00 p.m. Attendance of the introduction class is free and not required to attend other activities at the center. Questions? Email us – info@dmzencenter.org.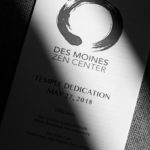 Be sure to check out pictures from the Des Moines Zen Center temple dedication held on May 27, 2018. Shoken Winecoff Roshi, the abbot at Ryumonji Zen Monastery in Dorchester, Iowa offered an invocation at the ceremony.
Temple Dedication Ceremony slide show

Upcoming Events
Zazenkai Retreat: Upcoming Des Moines Zen Center zazenkai on Saturday, July 6 from 8 am to 5:30 pm. The Des Moines Zen Center will hold a daylong zazenkai on the first Saturday of each quarter (January, April, July, October). View the retreat schedule. Interested people may sign up on the sheet at Zen Center or email info@dmzencenter.org.
Hosenshiki ceremony will be held for Eishin Tom Houghton at Ryumonji Zen Monastery in Dorchester, Iowa on July 20 & 21, 2019. A Tea Ceremony will be held on Saturday, July 20 at 7:30 pm. During the ceremony, the official observer, Rev. Konjin Gaelyn Godwin, abbess of Houston Zen Center and newly appointed director of Soto Zen Buddhism International Center, will give a dharma talk on the koan that will be used in the ceremony: No. 49 from Blue Cliff Record, "San Sheng's Golden Fish Who Has Passed Through The Net." Then on Sunday, July 21 there will be a public sitting at 9 am followed by a shuso ceremony and lunch.
The next Red Barrel Food Pantry Donation Day at the Des Moines Zen Center is on Sunday, July 7, 2019. Contributing to the Red Barrel Program, including all non-perishable food and personal care items, goes to the Des Moines Area Religious Council (DMARC) Food Pantry Network. The Red Barrel at the DMZC is located in the lower level.