Welcome to the Des Moines Zen Center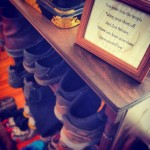 Following the Soto Zen Buddhist principles, the center offers a quiet place to sit in the company of a growing and supportive Buddhist community. All are welcome. We have weekly meditation times, dharma talks, discussion groups, potlucks and retreats. All are welcome and invited to attend. We are located at 6901 SW 14th in Des Moines, Iowa.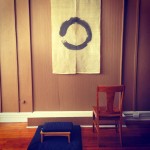 If you have never practiced Zen, take our introduction class. We will instruct you on the fundamentals of meditation and Zen practice on the third Tuesday of each month from 7:00 to 9:00 p.m. Attendance of the introduction class is free and not required to attend other activities at the center. Questions? Email us – info@dmzencenter.org.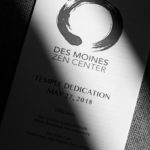 Be sure to check out pictures from the Des Moines Zen Center temple dedication held on May 27, 2018. Shoken Winecoff Roshi, the abbot at Ryumonji Zen Monastery in Dorchester, Iowa offered an invocation at the ceremony.
Temple Dedication Ceremony slide show

Upcoming Events
The next Red Barrel Food Pantry Donation Day at the Des Moines Zen Center is on Sunday, September 1, 2019. Contributing to the Red Barrel Program, including all non-perishable food and personal care items, goes to the Des Moines Area Religious Council (DMARC) Food Pantry Network.  The Red Barrel at the DMZC is located in the lower level.
Des Moines Zen Center Volunteer Opportunity – Meals from the Market on Saturday, Aug 31, 2019 – 11:00 AM to 1:00 PM

Calling all volunteers who love being outdoors, enjoy interacting with people, and have a passion for fighting food insecurity in the Greater Des Moines metro! DMARC is recruiting individuals and groups to assist with Meals from the Market Sponsored by Great Western Bank during the 2019 Downtown Farmers' Market. All of the fresh produce collected will be distributed throughout our food pantry network and help nourish your community members.

Last year several from the Des Moines Zen Center volunteered for this event. It was great fun and an important way to serve our community.
To volunteer sign up at: https://www.dmarcunited.org/volunteer/events/